Engagement Photography Upsides
Top 5 Benefits of Engagement Shoots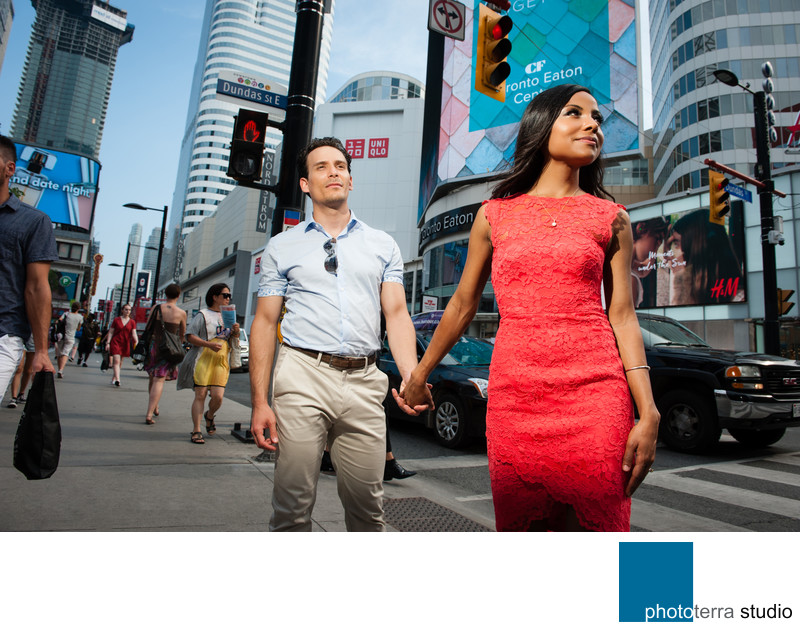 Why Engagement Photography
We photograph weddings and engagement sessions in Toronto, Ontario as well as around the world. Our insights as to why-you-should-consider-taking-engagement-photos can be measured as scientifically significant because we have shot 1000 + engagement sessions over 16 years in the wedding photography business. Jokes aside, we can professionally attest the importance of e-sessions for the following reasons.
1. You get to experience something entirely new and intimate with your partner – YOLO! You can also be very creative. Engagement photography doesn't mean you need to hug and kiss or hold hands for 2 hours. Instead, maybe you and your partner want to have glamorous pictures and go for a walk around Yorkville together. What if you're going to have a stylized photo shoot at home? Themed e-session photos at a swanky hotel perhaps? What about a boat ride? Engagement shoots are a lot of fun! They can be anything you guys want them to be. We will make sure you get plenty of variety in your photos, ranging from traditional to off-the-record. It is entirely up to you.
2. You will have social media profile-photos that you will be proud to post everywhere including your LinkedIn profile. That's because we make sure to photograph your portraits. We will advise you to suit up for one of your looks and pose for a professional head-shot in natural settings.
3. In our experience, couples that have engagement sessions before the wedding feel more relaxed in front of the camera on their big day. An engagement session is a perfect time for you to get familiar with how we work and relax in front of the camera. If you are like Tally, our studio director, relaxing in front of the camera will take a little longer than usual, but in the end, you'll get the head-shot you always wanted. Sorry, Tally! When we go over the images in post-production, we see how the pictures become better and better as the engagement photo shoot progresses. It is reasonable to assume then, that our couples become more at ease with being photographed and feel more comfortable as a result. When we meet on their wedding day, they are happy to see us, ready to take pictures and feel confident in front of our cameras.
4. Your engagement photos will give you an idea of the kind of wedding photographs we will create for you and your partner. You will see how amazing you look at pictures together as a couple and individually. You will be able to define your wedding photography style better and communicate with us your photography-related preferences.
5. You get to have professional photos that you possibly wouldn't take otherwise. How many professional photo sessions do you have together? If pictures of the bride and groom in wedding attires are the only ones you are considering, then you are limiting your timeline for displaying, sharing or even talking about your professional images. The engagement photographs, on the other hand, cover many of your looks without specific timestamps and can be used and displayed indefinitely.
Some of our couples hire us every year following their wedding to commemorate new life stories. These include, but not limited to pregnancy photo sessions, baby pictures, birthdays, anniversaries, boudoir photography and family portraits. We humbly assume that part of the reason we get to photograph the milestones of our couples is that we provide excellent service and outstanding photography. Hire us, and we will do the same for you.
Other Reasons to Consider
Sometimes, we photograph engagement sessions for Save-the-Date and Thank-You cards, wedding websites, reception slideshows, table centerpieces and stationery. Almost always, we print the favorite e-session portrait enlargement for our couples to display at the entrance to their cocktails area or reception venue.
Lastly, engagement photography is also an excellent opportunity for us, the photographers, to get to know you better, read your best angles and get creative together with you. Your engagement photography session is another occasion for us to better our skills, try new ideas and most importantly, surpass your expectations in every way!
Copyright © 2021 Phototerra Studio Toronto Inc. All Rights Reserved - Privacy Policy - Terms and Conditions